Maccabi Tel Aviv have reached the summit of the TASE Premier League and have done so in special circumstances, by keeping their goalmouth shut for the entire campaign so far, an all-time Israeli record.
It's now time to vote for your choice for the outstanding player of the month sponsored by BSR. One lucky voter will win a pair of tickets to a Maccabi home game and a team shirt and scarf signed by the chosen player of the month who will present the prize at the club's official merchandise store.
All you need to do is choose the player from the list below. The ballot will be open for 48 hours from Sunday at 14:00 until Tuesday at 14:00.
All those who have chosen the player of the month will receive a text message at 17:00 on Tuesday with a question and the first to answer it correctly will win the prize.
Time left
until voting closes
Loading survey...


Your choice:

עומר כץ

אנדראס יאניוטיס

דניאל טננבאום

ז'איר אמאדור

אנריק סבוריט

איתן טיבי

שרן ייני

אופיר דוידזאדה

אנדרה ג'ראלדש

מאור קנדיל

שחר פיבן

דן גלזר

דור מיכה

אבי ריקן

אייל גולסה

דור פרץ

אורוש ניקוליץ'

רוסלן ברסקי

עומר אצילי

ניק בלקמן

צ'יקו אופואדו

איתי שכטר

אלירן עטר

יונתן כהן

ארון שוינפלד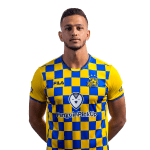 אילון אלמוג

מתן חוזז