360 Trivia: How much do you know about Eitan Tibi?
After being a part of many memorable Maccabi moments over the past number of seasons, let's see what you really know about the Yellow & Blue central defender. Answer the questions, check out the answers and share with your friends
Surprise for the players at Kiryat Shalom
In honor of "Yom Hamishpacha" Family Day in Israel, the players had quite the surprise waiting for them on their arrival to Kiryat Shalom. How did they react and who was very moved? WATCH
Maccabi falls 1:0 to Raanana
Despite tremendous pressure by the Yellow & Blue, a Roei Zikri goal handed the visitors the win. Atar, Micha & Blackman came up short on their chances to tie up the match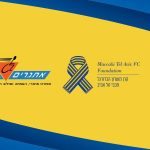 Winning Together: Maccabi and Etgarim join forces
The Maccabi Tel Aviv Football Club Foundation and Etgarim have joined forces to help empower and socially integrate people with disabilities through sports. Club CEO Ben Mansford: "We call on all Maccabi fans to come together and contribute to the best of their abilities towards this partnership"