Maccabi Tel Aviv maintained their place at the top of the TASE Premier League standings in December thanks to some excellent player performances and it's now time to pick the BSR Player of December.
One lucky supporter will win two tickets to a Maccabi home game, a signed team shirt and a team scarf. The prizes will be presented at Maccabi's official shop by your BSR Player of the Month winner.
All you need to do is to pick the player of your choice from the list below. The ballot is open until Sunday at 14:00.
On Sunday at 17:00, all the fans who voted for the winning player will receive a text message to their mobile phones. The first question recipient to send back the correct answer will win the prize.
Time left
until voting closes
Loading survey...


Your choice:

Omer Kats

Andreas Gianniotis

Daniel Tenenbaum

Jair Amador

Enric Saborit

Eitan Tibi

Sheran Yeini

Ofir Davidzada

André Geraldes

Maor Kandil

Shahar Piven

Dan Glazer

Dor Micha

Avi Rikan

Eyal Golasa

Dor Peretz

Uros Nikolic

Ruslan Barsky

Omer Atzili

Nick Blackman

Chico Ofoedu

Itay Shechter

Eliran Atar

Yonatan Cohen

Aaron Schoenfeld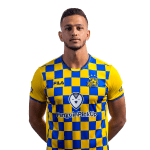 Eylon Almog

Matan Hozez