The Mladen Krstajic tenure at Maccabi is officially now underway. The newly appointed coach was presented this afternoon(Wednesday) at a special press conference that took place at Bloomfield stadium with the owner Mitch Goldhar participating remotely.
The owner Mitch Goldhar was the one to presented Krstajic as he opened the Press Conference from Toronto by saying: "I am pleased to introduce you with Maccabi's new – Mladen. Before I hand it over to you for your questions to Mladen I would like to take a brief moment to touch on our process for choosing a coach. Firstly, we do not look for a coach, while we have a coach. But following our decision to make a change we started to examine candidates that either expressed an interest or we approached as potential candidates, we received many enquiries and a lot of interest. Barak (Itzhaki) and Jack (Angelides) conducted the first stage interviews and produced a short list of candidates. We then agreed on a second stage interview at which time I participated and in some cases with followed-up with further interviews. As you can expect, candidates do not materialize at once, but cut to a period of several weeks. Over the course of discussions with Mladen and his team, we felt that he had the attributes we were looking for and that he would be a good fit. As you all know he had an exemplary as a player in Serbia and in Germany and he is a proven winner. Although he is at the relatively early stages of his coaching career, he brings with him the same hunger for winning as well as the skills to work with players of all ages and to develop a squad that plays the kind of football we want to see. We all wish him the best of luck".
Goldhar then added: "Before I conclude, I would like to once again thank Barak for stepping in as the interim coach when asked. I have nothing but praise for Barak's loyalty and hard work, during this time and his willingness to take on a role that I was convinced he was more than capable of fulfilling, but nevertheless was new to him and which came with a great deal of pressure. Barak, thank you! And now, we all need to get back to work, because we all have a long season ahead of us".
Coach Krstajic then gave his opening statement as he said: "Thank you very much for the kind warm words of Mitch. I am delighted to be here today and grateful to be here" Krstajic said before adding: "I am proud to be Maccabi's new head coach and looking forward to my time here".
On his acquaintance with the club: "Obviously I know Maccabi as it's very famous name. Maccabi is well known even outside Israel. I am looking forward to work hard and lead Maccabi to good places in the league, and the Cup and in Europe". The 47-year-old former Serbia national team coach, added: "I spoke with Maccabi's former coach Vladimir Ivic who I know from our playing time at Partizan Belgrade and he told me everything about Maccabi, about Tel Aviv and Israel. I confided in him and this is an important step for me".
On the season he expects with Maccabi: "I am not scared of what awaits me. I have a staff of three good people who will assist me, we will need time to instill our philosophy and my ideas, but this is something which should happen quickly as we don't have time to spare. We are competing in three different competitions, we have a lot of hard work before us, the staff, the team and everyone else are prepared to work hard for the success of this club".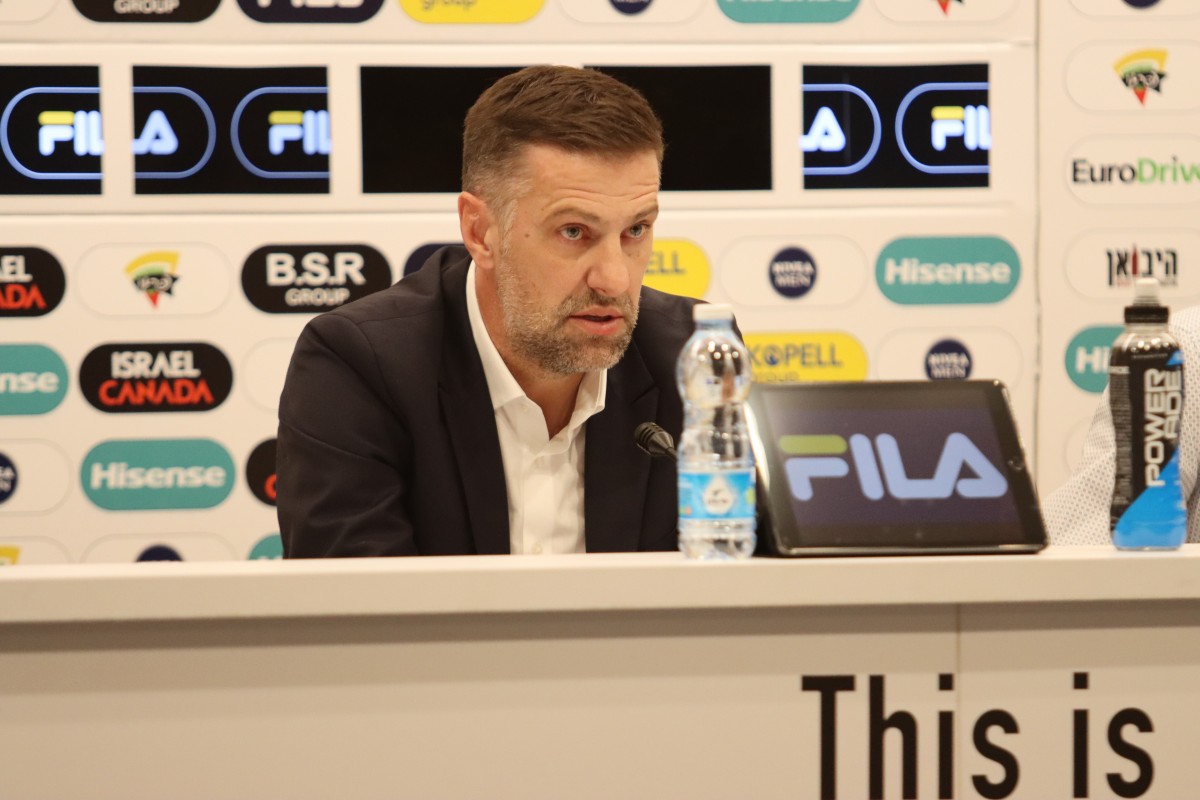 What must Maccabi improve?
"We watched the games closely and intensively and I see a squad with a lot of potential. There are many good players and I particularly enjoyed watching the final game against Hapoel Hadera. As of today, the important thing for me is to work in a focused manner. Our first step will take place in tomorrow's training session. I would like to get to know the players and need to get to know me quickly in order for me to pass on my philosophy, my way and how I would like to succeed. There is no time to waste and there is a lot of work ahead of us all. I trust the connection with the fans who are the best fans in the league and in Israel – I want to build on that connection in order for all of us to work together. Barak deserves a lot of credit for the level of football the team has shown under him".
Will there be any players you would like to sign in the January transfer window?
"This is something internal between the coaching staff and Barak. We still have two weeks to have a close look at the team, who is good, who will stay on, and who would like to leave. Everything is open, I will closely look at everyone's ability in training as there are two more weeks before the January transfer window – for decisions to be taken".
Krstajic, who spent several years in Germany playing for Werder Bremen and Schalke 04, spoke at the press conference in German and was assisted by an interpreter a fact which led to the question about the language barrier in communicating with his players: "I understand everything in English. I speak German and Serbian, but football is an international language and suits every language. A smart player will understand every language and I fully trust that".
On the reminder of the season, and the team's targets, Krstajic added: "Yes, the team has the potential to challenge for the title. I know we are in fourth spot, level on points with third place but as far as I am concerned the most important match is the next one. It all begins on Sunday as we play a State Cup match against a third division side but still have a lot of respect for them. We will focus on the next match which is the most important one, and after that on the one that follows right after. Maccabi is a big club and nothing but victory in every game will be accepted. This is what I owe the team and the best fans in Israel as they expect quality and I would like to see quality in every training session and in every game. This is how we achieve success".