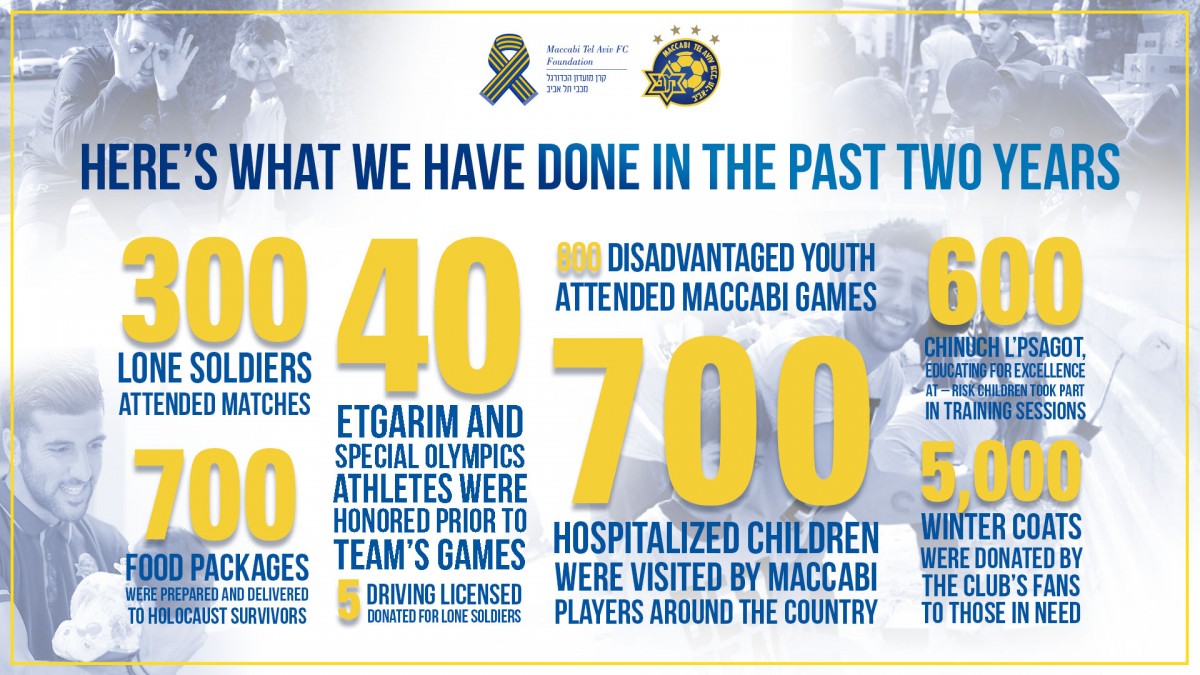 Maccabi Tel Aviv Football Club Foundation is proud to serve the Tel Aviv community and beyond. Through cutting edge programming for supporters and innovative activities for the public at large, the Maccabi Tel Aviv FC Foundation strives to provide excellency off of the pitch as well.
The Foundation helps make an impact on the larger Israeli society by using the positive energy of football to effect the lives of those in our community. By engaging our fans, every supporter becomes an active player and ambassador of the club thereby placing the Club at the forefront of corporate social responsibility and the leader of all sports franchises in Israel.
Our commitment to excellence helps improve the quality of life for people of all ages in the Tel Aviv area and throughout Israel. For those outside of Israel, the Foundation is their connection to the Holy Land through the leading sports club in the country. The name Maccabi Tel Aviv is the connection for tens of thousands of Jews living in the Diaspora and Friends of Israel to the country that they love.
The Foundation provides a variety of meaningful programs offering something for everyone. Those programs are divided and organized into three main categories of activities: Youth & Education, Multiculturalism and Social Action.
For Youth & Education the Foundation is committed to improving the lives of children in Israel. Using football as the backbone, the Foundation promotes positive values and education to all ages.
Multiculturalism is what makes Israel a truly unique and challenging nation and the Foundation believes in merging the diverse Israeli societies together by using the power of football. Through programs that combine the many segments and cultures within Israel the Foundation provides an equal opportunity for all.
Social Action has always been at the forefront of Israeli society and the Foundation empowers Maccabi Tel Aviv's family of fans to join together to champion social responsibility off of the pitch. The Foundation inspires positive impact which enables those people who are challenged to achieve their goals.
Most importantly, the Foundation is a family, united together by a unique logo that connects each one of us to the club that we love and support. The Yellow-and-Blue scarf shows the power of working together in unison to empower individuals and communities across Israel. From the players on the pitch to the supporters in the stands we stand together in solidarity, raising awareness, showing care and concern.