The first season ended with the Youth Department under a new professional team headed by Patrick Van Leven, the club's Performance Director. In a special interview, Van Leeuwen concludes his first season in the department and shares details about his special philosophy.
Summing up the season from a professional point of view:
"It's almost exactly one year that I've been at Maccabi and looking back at the things that I had planned for the Club, I believe that we have come a long way. We were able to change the football philosophy and implement a philosophy for all of the teams, one that is not determined by an individual coach. This is how I want all of teams to adapt to which will ensure that all of the coaches go in the same direction which also opens up discussions about exercises and the development of players.
At the beginning of the season there was a lot of explaining and correcting which wasn't always pleasant for a coach if he was corrected on the field. But this is the process that we had to go through to make sure that we went in the right direction. You can now see that all of the teams including the Under-8s and Under-9s have a specific philosophy, one that is begins at a younger age and will continue from year to year both in football matches and in training sessions.
Of course, when you try to change the football philosophy within a club there are always ups and downs, but all in all we did very well with the coaches and with their cooperation in implementing a new philosophy."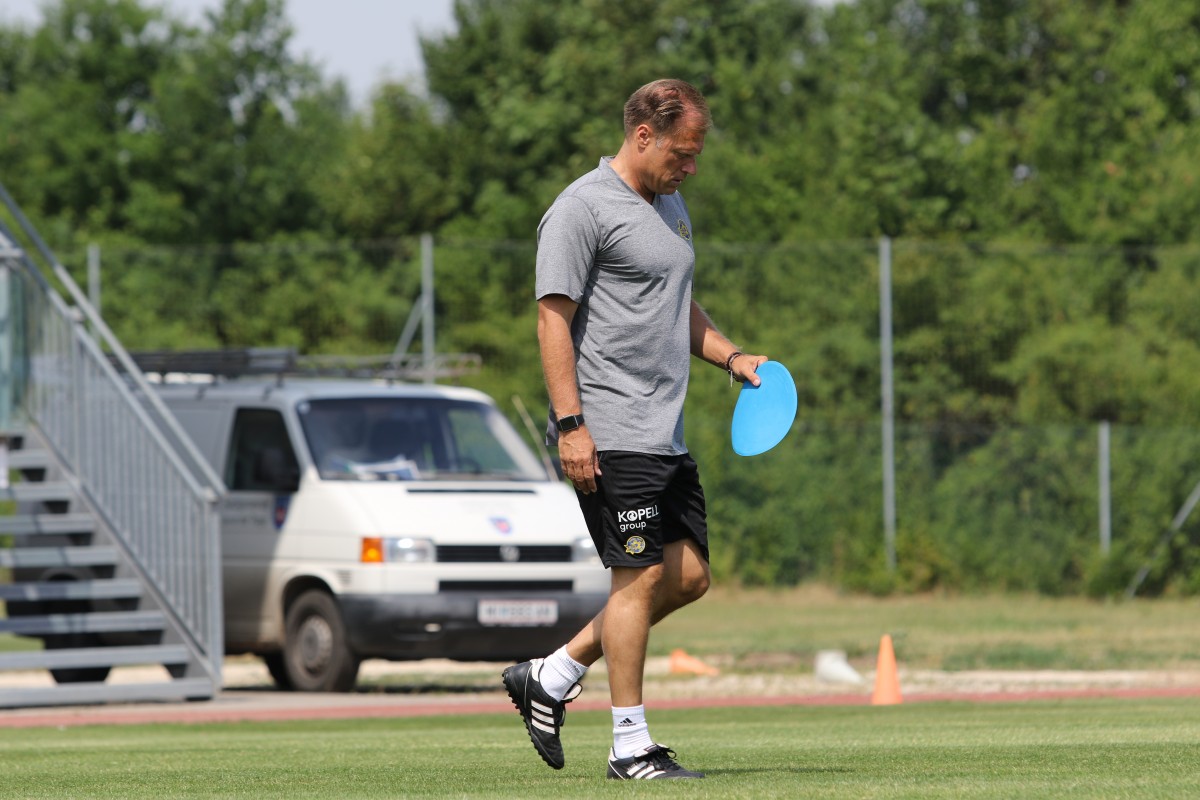 The staff's attitude in adapting to the new philosophy:
"When I came in the staff was already prepared by Guy Zukerman and everyone was put in a position where they could prove themselves. I started to work with all of the coaches in the positions that they were placed in. Some of them worked out well and some had trouble. That's all part of developing a new philosophy. It doesn't always go in everyone's direction and there had to be some changes at the beginning. At the end of the season there were also changes since some coaches still thought that they should have different opportunities that they can't receive at Maccabi. Along the way we lost some coaches, but in general I am happy with all the coaches which stayed and with the new coaches that we are looking to add to the existing coaching staff.
It's not always easy to implement a new football philosophy and there will always be coaches who are not willing to adapt because of their many years of experience as a coach. But after so many years of experience, I know which direction I want to go in and what results will be produced at the end. I am here to help make the coaches, players and scouting department happier and better."
Changes that have been made that have contributed to the department's progress:
"I believe in clarity. I brought in one philosophy for everybody and I feel that if you have everybody working and thinking in the same direction, especially when you are working on a long term project like the Academy you will succeed. Every year players will not only repeat what they have learned but will then get new information from the coaches that they will have in the second or third season. This is one of the major things that contributes to the progress of players and coaches and the Maccabi Tel Aviv Youth Department as a whole."
About the department's philosophy:
"The philosophy is a combination of my basic development in Holland, experiences that I had in the Ukraine and Kazakhstan which also influences my Dutch football background and makes it more to the point for those types of countries where football has been learned in a different way. I like one philosophy where all of the coaches do the same thing in training and playing. The game of football consists of different key moments, whether it's attacking, defending or switching from one to another or the way you take the set pieces. This is also for all the age groups so everyone is going in the same direction with the same football thoughts at all times."
Important aspects and values that need to be assimilated in a player in order to advance:
"There are 3 things that are very important. We want a good football player, an educated person outside of football and a creative person. We want to educate a person not just in the field of football and education but to be a well rounded individual. If someone doesn't give 100% in football then that will influence his education and vice versa. We are teaching the players to always give 100% and to give the maximum of their talent and to always be responsible in football, education and as a person."
Mentality of the Israeli player compared to other places:
"I think that sometimes the Israeli player will be easy minded in way that if they show that they can do something once then that's enough. I want to work with players who come to a session and want to improve everyday and that was something that didn't exist at the beginning of the season. But I have seen lot of changes as the players know that we want to see them change and improve every single day. If you compare the Israeli, Ukrainian and Kazakstan player, you can see that the Eastern European player puts in a different amount of effort and aims higher. They have to travel a longer distance to get to the training facility and they know that their family background may not be the best so they want to succeed. The Israeli player lives closer by the football club, but they also have to show what they have to do to become a professional football player and what they are willing to do to become this professional football player. Together with my assistants Raymond and Robin I want to make sure that the coaches and players understand that becoming a professional footballer is a privileged job."
Goals going forward:
"The goals for a youth department are always long term. Short term doesn't work because when you institute a philosophy you are gaining the benefit of football development which occurs over a longer period of time. I know that in the near future the Maccabi teams will be more stable and will be able to deliver a higher performance training session by both the players and the coaches along with increasing the level of our training sessions and our matches. Further down the road we want to deliver candidates to the first team and this is an every year goal that recently started for us. We were lucky to have 5 boys training with the first team at the training camp. They left a positive impression on the head coach as well as the players who were training with them as they were eager, willing to listen and learn, while showing good technical qualities and tactically good choices in the training sessions and matches. This is something we want to happen every year, to have the Academy boys training with the first team, playing friendly matches with the first team and more.
We want to further develop the professionalism of our players. We want them to think about Maccabi Tel Aviv, why they spend so much time playing football and being educated outside of the football field, by using video analysis, by the use of a psychologist to help the team process and make them more aware that they are the ones that have to do it. If I look at direct team results of becoming champions then if the process is in the right direction and the coaches work well on the field and the players perform well on the field and listen well to their coaches, then the results will be a natural effect of our work on and off of the field."